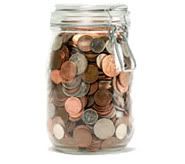 One often is surprised by the little tidbits one can pick up in the news. Yes, we will be posting about the Shalit deal and about a brewing Agunah controversy. But perhaps, because this is also important, and perhaps because especially during these times it is uplifting and important to hear of projects like this run by teachers who have brains, understanding and imagination we are going to talk about 13,000,000 - Thirteen Million - Pennies.

"I want anyone who donates to hold a handful of pennies and imagine that they are holding the terrified hands of the humans who were marched into the gas chambers," Hood said.
The article in the Jerusalem Post, 13 million pennies collection to honor Holocaust victims, tells us the number 13,000,000 is to represent each person killed in the Holocaust. It leaves us with an understanding that there is still excellent education going on in Jewish schools. The article tells us:

The project was inspired by Whitwell Middle School in east Tennessee, which set out in 1998 to collect 6 million paper clips - representing each Jew who died in the Holocaust - and received several times that number.





The Tennessee students decided to collect paper clips because they discovered that paper clips were invented by Norwegians and that Norwegians wore them on their lapels as a silent protest against Nazi occupation during the war.



The 14 students have collected 65,000 pennies so far.

13,000,000

pennies is a long way to go.

And yet whether they reach their goal or not, my respect and appreciation goes to the teacher and students at Temple Israel in Akron Ohio.



But that number.
13,000,000
. It rings in my head. It is beyond imagination. It is beyond understanding. It is beyond anything that I can fathom.
13,000,000
people killed by a nation gone blood crazy because they listened to a pathological sick spawn of the devil. They saluted him and followed him.
13,000,000
! And that does not count the soldiers that were killed. Some say the number
35,000,000
is more realistic when talking about World War Two.
13,000,000!
And we have idiots in Iran, idiots released from Vienna jails, idiots even in writers forums claiming that the freedom demands these people are allowed to deny the Holocaust and spread their hatred and venom.
13,000,000
. Just think about that for a moment.
13,000,000.
Thank you children in Temple Israel. Thank you teacher of their class, Ms. Hood. Even an old battlefield medic living in Jerusalem has to be reminded from time to time about the important things in life. It is good to be given perspective. It is even better to know it comes from 14 children who have learned while living in peace their legacy and history. It is important to know the lessons and history of the Holocaust will not be forgotten.
And dear reader, I beg you to remember,
13,000,000
pennies begins with just one. And even one life taken by the Nazis is simply one life too many.
And so the next time you see some idiot defending the right for someone to deny the Holocaust - from the head of a country to some poor hate ridden fool on a forum board - flick him a penny.


Indeed, flick him a penny from Heaven.
---
Posted On:

The View From Jerusalem

---
Tags: