Way back on August 21, 2006 I posted the a piece about the way the recent war in Lebanon was planned and carried out. Entitled,
Laurel & Hardy - The Three Stooges - Bert & Ernie Take Your Pick
, I was fairly clear about the incompetent dolts that were running this government. Since then, this government has added to its noteworthy list of achievements, a President who has had to take a "leave of absence" due to allegations of misconduct and sexual harassment; a Minister of Finance who had to also take a "leave of absence" due to allegations of stealing no less and no more from funds available to Holocaust survivors (makes your stomach turn don't it?) and a host of other charges which climb the pole all the way up to the head of the class - the Prime Minister who is being investigated for shady business deals.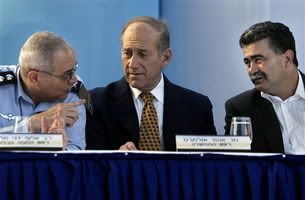 Winograd Commission stated that Peretz "did not have knowledge or experience in military, political or governmental matters. He also did not have good knowledge of the basic principles of using military force to achieve political goals."
And of course now we have the official Winograd Commission findings - though to be honest I have no clue why we needed to spend so much money in yet another government commission, when it was always clear that Olmert, Peretz and the rest of this shameful group of incompetents, had no clue what they were doing from the very start of the war.
The following is an excerpt from the news article which appeared in Haaretz - "
Lebanon war probe accuses Olmert of 'serious failure
'". (
Bold
&
Italics
are mine)
"The prime minister made up his mind hastily,

despite the fact that no detailed military plan was submitted to him and without asking for one

," the report said. "He made his decision without systematic consultation with others, especially outside the IDF, despite not having experience in external-political and military affairs."

Olmert was also censured for failing to "adapt his plans once it became clear that the assumptions and expectations of Israel's actions were not realistic and were not materializing."



"All of these," the report said, "add up to a serious failure in exercising judgment, responsibility and prudence."



The findings level heavy criticism at

Defense Minister Amir Peretz for being unaware of the state of the Israel Defense Forces, even though he should have been

.



Peretz "did not have knowledge or experience in military, political or governmental matters. He also did not have good knowledge of the basic principles of using military force to achieve political goals."



Despite these deficiencies, the report states, "he made his decisions during this period without systemic consultations with experienced political and professional experts, including outside the security establishment."

In fact, the panel found, "

his serving as minister of defense during the war impaired Israel's ability to respond well to its challenges.

"

Dan Halutz, who was IDF chief of staff at the time, was criticized for entering the war "

unprepared

," and for failing to inform the cabinet of the true state of the IDF ahead of the ground operation.

According to the findings, the army and its chief of staff "were not prepared for the event of the abduction despite recurring alerts."

The panel also found that Halutz had been failed to "present to the political leaders the internal debates within the IDF concerning the fit between the stated goals and the authorized modes of actions."
This report should send shivers down the spine of the entire State of Israel. It should make us physically sick. Made me break out in a rash just reading some of the accusations. Months ago, I called these incompetents just what they were - a scary version of Laurel & Hardy. With Halutz in the mix, and we have the Three Stooges. A financially aware three stooges, I admit, one who is savvy enough to deal in the stock market on the first day of a war even while he is the Chief Of Staff; and another who manages to buy prime real estate in the most expensive neighborhood in Jerusalem for 30% less than what it is worth even while he is telling the jobless and poor that things will get better; and another who knows nothing about defense but sure as hell knows a lot about blather and blabbing and causing useless strikes.
Is it any wonder that the kidnapped soldiers are still not back? Is it any wonder that Israel has failed in every single declaration of what the purpose of this war was. Is it any wonder that the government and those who govern us have lost every single iota of respect? Is it any wonder that these three are now exposed as incredible hypocrites and essentially incapable of fulfilling their jobs?
I do not understand why Olmert and Peretz are still in place. I do not understand how, with such damning reports - reports mind you, that make it clear that the death of many soldiers lays squarely on their shoulders - that Olmert & Peretz have not been put to pasture in a land saved for those who brought disgrace to the State of Israel. These are third rate criminal minds attempting to run a country. Why the hell are these people still in office? Why have they not been kicked out on their asses and made to answer for their ignorance? Why are they still occupying a seat of power, when they should be out looking for jobs cleaning the dishes in some fast food joint?
If they look like the Three Stooges; if they act like them; if they talk like them - then hell - someone give these guys their own comedy show. But get them the hell out of the Knesset.
And the only question that remains for the Winograd Commission:
It took you this long to figure it out?
---
Posted On:

The View From Jerusalem
---
Tags: